So you've been seeing the likes of Charlotte Free, Nicole Richie, Kelly Osbourne and Audrey Kitching (or some other pastel hair blogger? *cough cough Emi Unicorn*) and been in awe of their hair but have no idea how to go about getting pastel hair?  I was once that girl who would be scrolling through Tumblr, endlessly looking, reposting and admiring from afar the internets' finest pastel haired beauties but just didn't have a clue how to actually attain it.  So to save you the trouble of tossing and turning, debating whether you should go for it – as someone who was previously in your position I can honestly say since going purple, I haven't looked back and it has even given me confidence to be myself!  You can read the full breakdown and benefits dying my hair purple did for me here:
–  How purple hair changed my life.
Other helpful articles:
– 5 tips for styling pastel hair
– purple pastel hair guide (video)
 Below is a handy step-to-step guide on attaining pastel hair colour of your choice. Too easy!

1. First things first I'm the realest – you'll need to bleach your hair blonde.
I would recommend going to a trusted hairsalon as while some may say it's easy to dye your hair blonde – let me tell you, it ain't.  There will be a number of factors that you'll need to consider:
– the condition of your hair ie. how damaged is your hair
– be prepared for thinner hair, the bleaching process will take alot out of your hair (which is why so many pastel haired unicorns wear hair extensions)
– is it currently dyed? If so, what colour?
– are you prepared for the upkeep of maintaining pastel hair? ie. can you afford it?
After all these points are considered – feel free to go to a reputable (and amazing) salon that will be able to bleach your hair for you.  If you choose to do it yourself, just be aware it will probably be cheaper though will no doubt damage your hair more in the long run.  My bleach time usually takes around 45 mins (that's bleaching dark asian hair that's prone to brassiness) however other pastel friends bleaching process can take up to a couple hours so just be aware.  Going to a salon will also minimize hair damage as the hair stylists will know which type and strength of bleach to use on your hair type.  Feel free to comment below if you need any suggestions for good salons!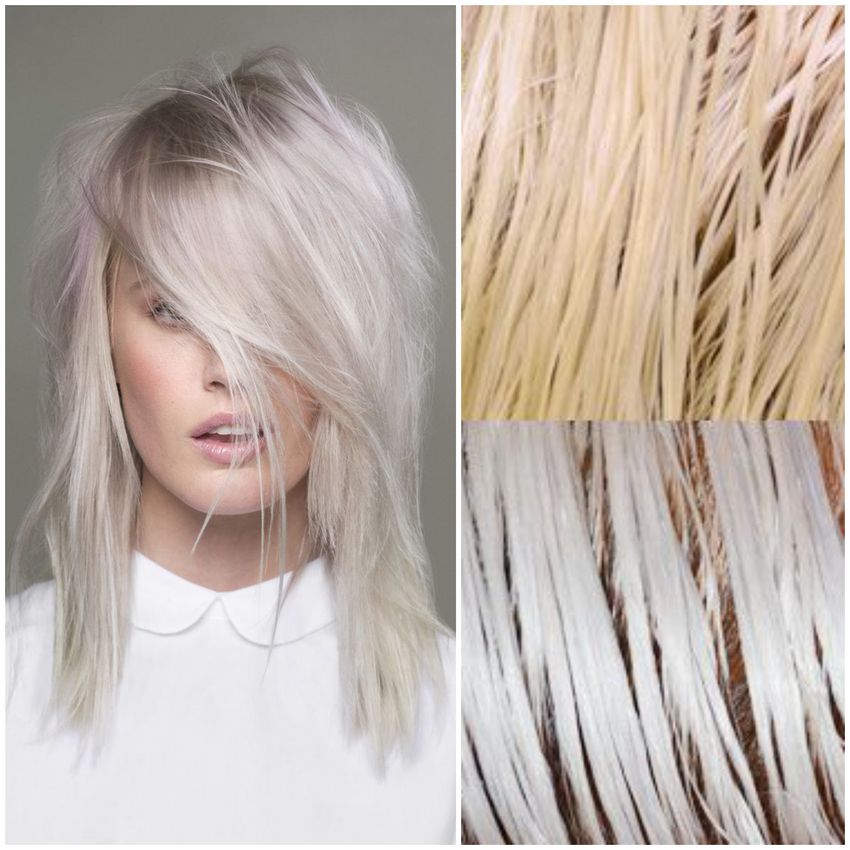 Step 2 : Tone your hair
So you've successfully dyed your hair blonde. Your hair has probably resulted in some thinning, as is normal with bleaching as it is a very damaging process.  You're halfway there to pastel hair!  Next you'll need to tone your hair for your hair dye to show up properly (and in full effect) in your hair.  I recommend Manic Panic Virgin Snow – apply to hair and leave on for 20-30 mins, wash and dry.  What is toner you may ask? Essentially it will take out the brassiness out of your blonde hair, that is to take out any orange/reddy hues and ultimately make your hair white blonde.


Step 3. Choosing the right hair dye
Sounds easy enough? Except when there's hundreds of different brands, opinions about which brand works and which doesn't and of course perhaps the most important reason – the best colour choice.
Now the brands that I've personally tried and tested are: Fudge Paintbox ($18), Manic Panic ($20-25), Bleach London ($10) and La Riche Directions ($20).  Now I've only ever coloured my hair for pastel purple, so I can only speak on behalf of the purple shades:
– Manic Panic Electric Amethyst is pretty much spot on (if apply undiluted it is quite dark but will fade out), the only negative is that it can get expensive but relatively lasts around 2-3 weeks. 1 tub = 1 use however sometimes I'll need 2 tubs so it can get a bit pricey.
– Bleach London Violet Skies is great, I don't need to dilute at all and the texture is like thick conditioner. The only down side is that it lasts for 7 days (if I'm lucky).
– Fudge Paintbox Purple Haze to me is fantastic on every mark. It's affordable, I can get about 2-3 months out of it as I extremely dilute a few squirts with conditioner. The colour is spot on and lasts about 2-3 weeks.
– La Riche Directions Violet, again not too bad in terms of colour.  The consistancy was a bit runnier than Fudge or Bleach London (quite similar to Manic Panic) which meant I needed 2 tubs. I don't really rate it at all.
Now it is all trial and error for which colour you want and which brand will work with your hair.  I know some people who absolutely hate Fudge Paintbox – I actually swear by it! It's affordable, gives even rich colour and coverage and lasts! Second place would be Manic Panic then Bleach London and finally Directions.
Ion Colour Brilliance and Crazy Colour are two brands I've never tried and can't comment but I've added to above to give an overall coverage of what brands are out there.
Once you've chosen your brand and colour – will you need to dilute the dye with conditioner or apply it straight on? The choice is yours.  I love diluting it by about 20% Fudge dye/80% conditioner and leave it on for a couple hours as it acts like a deep conditioning.  Wash off with lukewarm water – if it appears too dark feel free to shampoo and condition your hair otherwise just a rinse is all you need.

Step 4: Looking after your locks
Your hair would have already been quite damaged as a result of the bleaching process, so it is essentially to nourish and treat your locks at least once a week with a protein treatment.  I also avoid any hair straightners, blow dryers and any heat damage where possible.  Products I personally recommend include:
– Bumble & Bumble Creme de Coco masque treatment, at around $30-35 a bottle this is a special occassion treatment in my books.  The bottle lasts me 4-6 weeks which isn't too bad, just leave this deliciously coconutty and rich hair mask on for 10-25 minutes as desired and wash off. It will leave your hair feeling so soft and lush!
– KMS Moist Repair treatment, again priced at $25 this bottle lasts me about 3-4 weeks and instantly makes my hair soft again. This one is packed with protein so don't over do it or you'll actually damage your hair more by over protein-ing.
Hope this guide helps you decided to go PASTEL – it really isn't too hard, you just need to want it enough to take the leap of faith and believe me you won't regret it! Keep an eye out for more #emiunicorn pastel hair tips!