Since opening Unicorn Manor earlier this year I've been working full time looking after the store without so much as a day off let along time to blog. Don't get me wrong, I am so blessed to be able to do what I love and the love and support I've seen from my customers and fans has been incredible. Since I'm well on top of my orders and have enough stock to not need to make some candles, I decided to finally do some spring cleaning and cleanse my sacred space.
This is situated in my bedroom where most of the magic happens. This is where I gain my inspiration for my blog, for the Manor and the space where I come up with new crystal candles for the store ✨ Ever since I was little I've always loved collecting crystals and now my collection is slowly growing to a decent size mainly made up of Amethyst in different shapes and sizes, aura crystals, rose quartz and spirit quartz and my growing collection of crystal necklaces. Even before my pastel hair days I seemed to have always been drawn to pinks and purples so it's no surprise to see so much Amethyst and aura crystals around my home.
My most recent necklace (below) being my HUGE smoky quartz and amethyst double pointed unicorn amulet made by the talented @bionic_unicorn. At first I thought it was too big for my liking but upon wearing it for the first time, I soon changed my mind. It's a beautiful amulet that I love to wear when I feel I need some protection or to cleanse from negative vibes.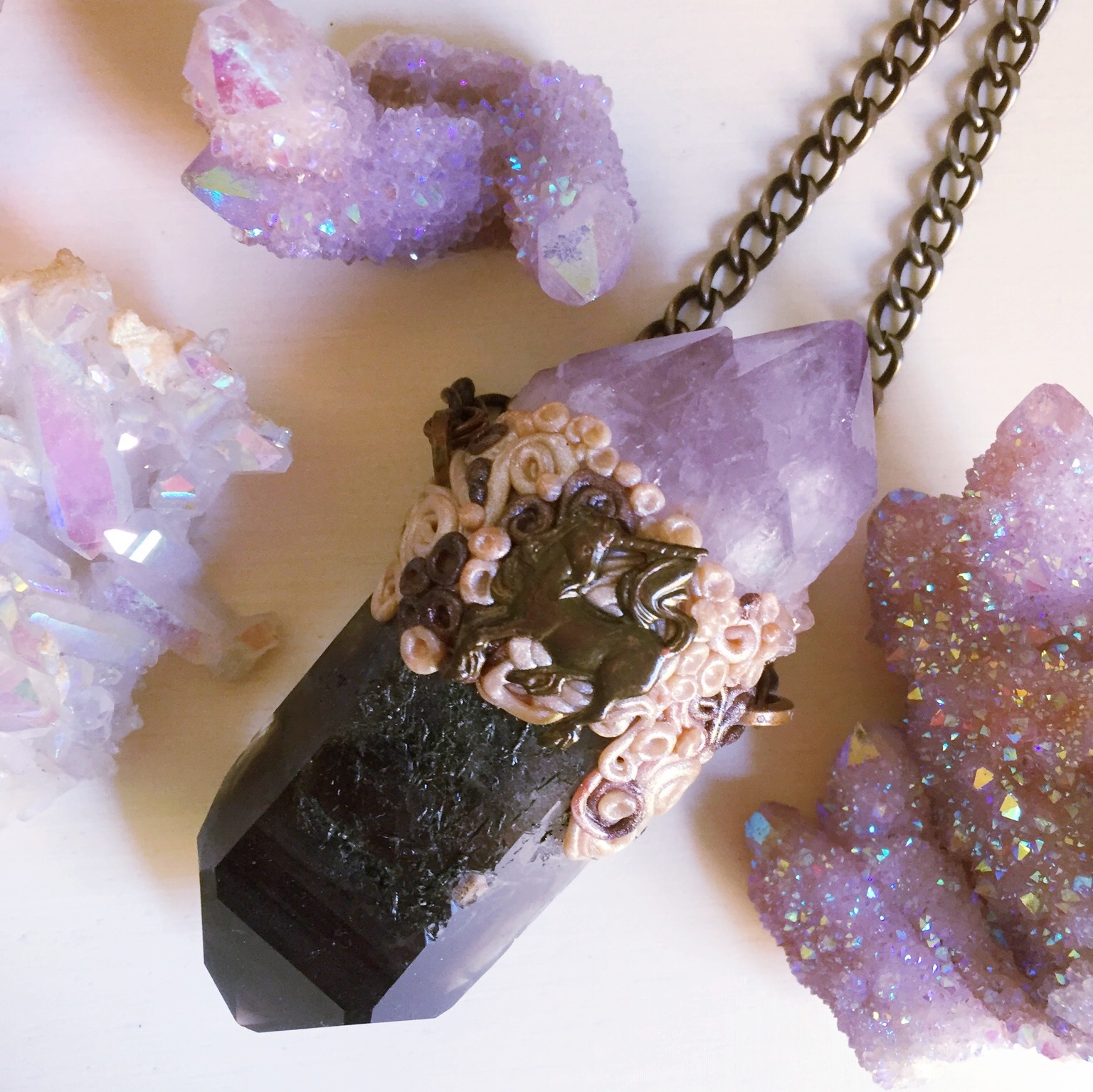 Today also was a really great mail day – I treated myself to a beautiful Charmaine Olivia piece to add some light and colour to my otherwise white and pretty bare room. Titled Daydreamer Nightdreamer – it's a beautiful representation of cosmic balance, day and night, sun and moon. Even though it's only a print of her original artwork it's incredibly detailed and so vivid and vibrant. I've been following Charmaine for a few years now and she's definitely one of my favourite contemporary artists ever. Even her instagram feed is filled with rainbows, beautiful paintings and WIPs, her stunning studio and just positivity 💞 I'm happy to say this is my second CO piece added to my collection and I doubt it will be my last 🙊