Kylie Jenner. If there's one word to describe Ms Jenner it would be entrepreneur – she has a successful clothing line (which has collaborated with PacSun, Topshop and Forever New), her own Kylie Cosmetics Lip Kits and hair extensions line to name a few. Her Lip Kits are still going strong over 6 months since the launch and I for one have literally been trying to get my hands on some since the beginning of this year! So imagine my excitement when I finally got my hands on some Lip Kit goodies, I ordered on the 27th May 2016 and my order arrived on 3rd June (1 week later, it was so fast). Now I should mention I actually placed 3 separate orders, one was within 2 minutes of the restock going live and the other two were around 5 minutes after the restock went live. In between my first order and the other two, there were 30,000 orders so understandably my second and third orders are still in transit (but have been shipped) on their way to Australia.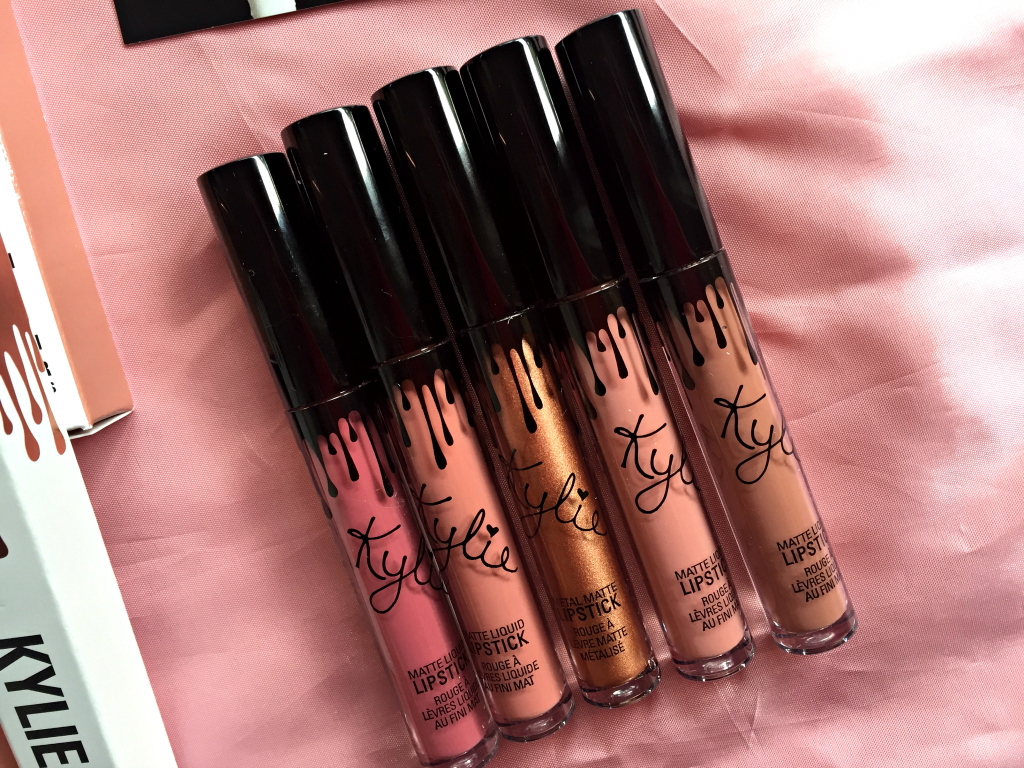 As already mentioned I had been trying to get my hands on some Kylie Cosmetics since the beginning of the year and each time was unsuccessful until I tried something different. Here are my tips:
Turn on mobile notifications for Kylie Cosmetics on Twitter and Instagram
While I sleep, my phone is on silent meaning if Kylie Cosmetics is restocked and my phone notifications pop up, it won't wake me up due to silent mode. I've also noticed that the Kylie Cosmetics Twitter and Instagram will post the live restock a few minutes after the restock has been live – meaning 5-15 minutes have gone past and things could have already started to sell out.
Follow these Kylie Cosmetic Lip Kit enthusiasts on Instagram (with post notifications turned on)
LipKit Updates
Kylie Cosmetics Restock
While these accounts are not affiliated with Kylie Jenner or Kylie Cosmetics, they are extremely quick at posting all relevant information as soon as it goes live via the KYLIE App. Why I loved these guys is that they posted all the different time zones from around the world, because let's face it – one of the hardest things for Australians to do when finding out about when it restocks is working out the time difference and either pulling an all nighter (some restocks went live at 3am AEDT) or setting multiple alarms. Thankfully the last few restocks have been at more reasonable times at 9am AEDT (which was around 3pm PST).Once I found out about the time from these accounts (if you don't want to pay for the KYLIE App) which is usually released a couple hours before the restock, I set my alarm 10 minutes before the time of the launch and had my browser already opened to Kylie Cosmetics. The key is to keep refreshing once the time hits for restock and then you'll be one of the first to buy.
Have your payment details written down
From my 3 orders alone, I worked out that in the last restock there were a minimum of 40,000 orders, meaning 40,000 other people are trying to get their hands on Kylie Cosmetics so you need to be quick, already know what you want to buy and have your credit cards details handy so you can do a quick copy and paste or if you're computer has saved your cc details then just a simple click and you're ready to click pay.
My order arrived in a pretty nondescript black box and when opened features the signature Kylie Drips. None were missing and all were in perfect condition. The fact that I was one of the first to order, meant it only took 7 days including the weekend to arrive from when my order was placed to my doorstep. My other two orders are still yet to arrive so expected deliveries to Australia would be 7-15 days.
Being of mixed race (Russian, Chinese and Japanese) my skin tone has a mix of cool and warm under tones meaning it's incredibly difficult to find lipsticks that suit my skin tone without making me look goth or washed out. I wanted to share with you a swatch of all Kylie Cosmetics I've purchased: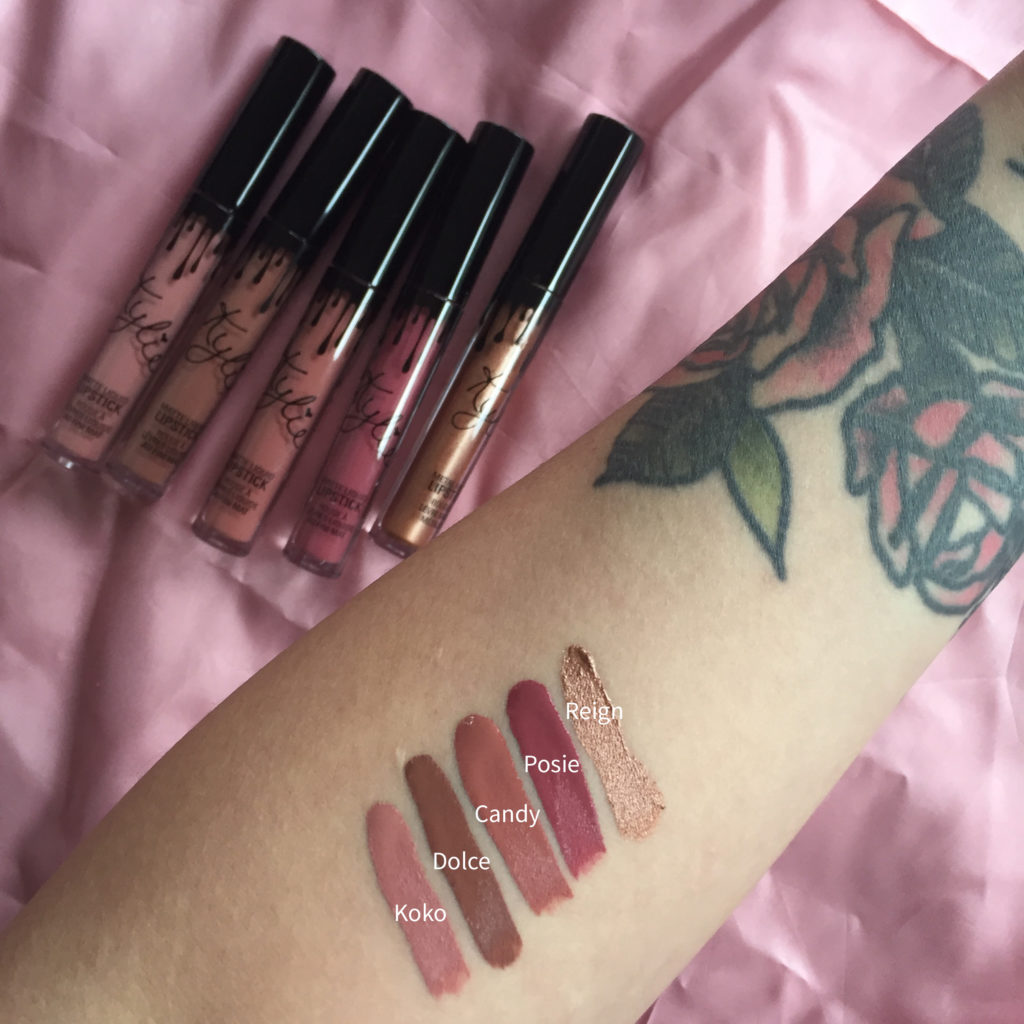 I thought I would like Posie and Candy but found they are a bit too dark for my liking – and absolutely am obsessed with Koko, it is such a beautiful pinky nude.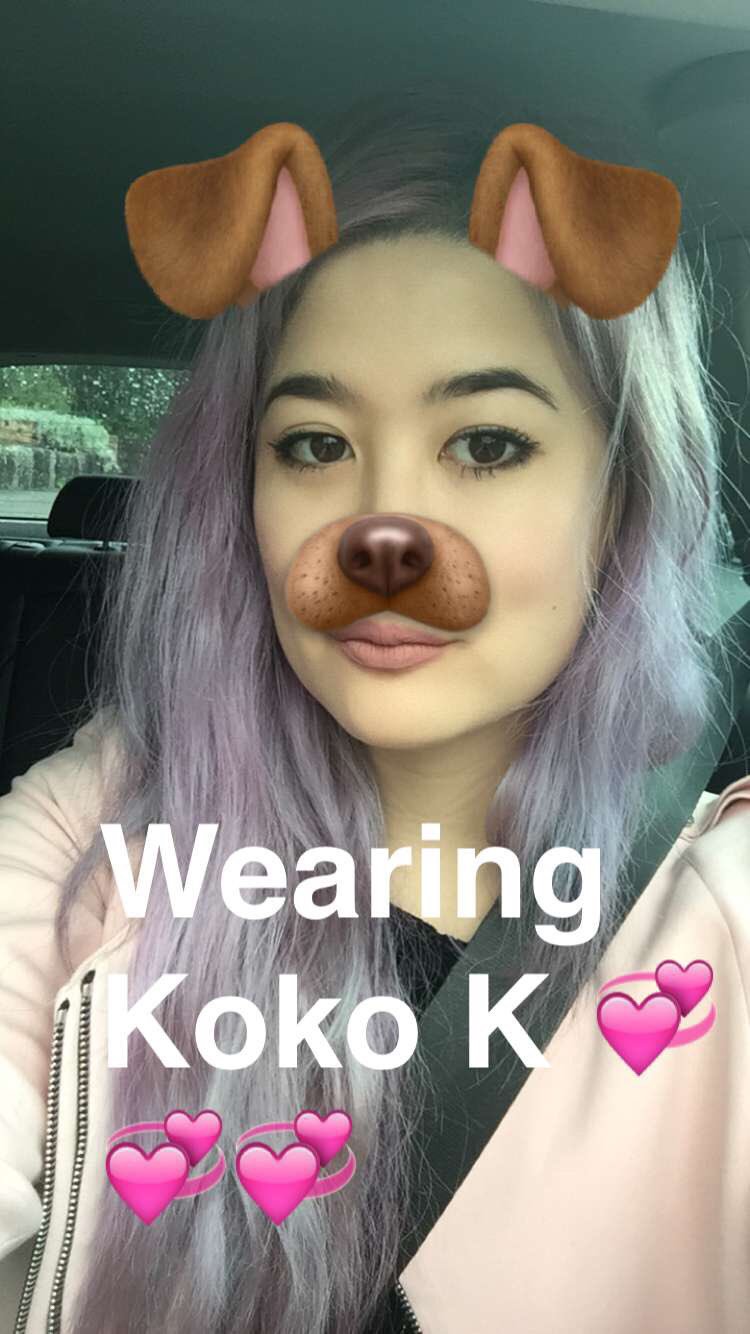 NOTE: I will update this post as my other 2 orders arrive with swatches of So Cute and King K.
PS – I've been thinking about giving away a couple extra Lip Kits, let me know in the comments below if I should!