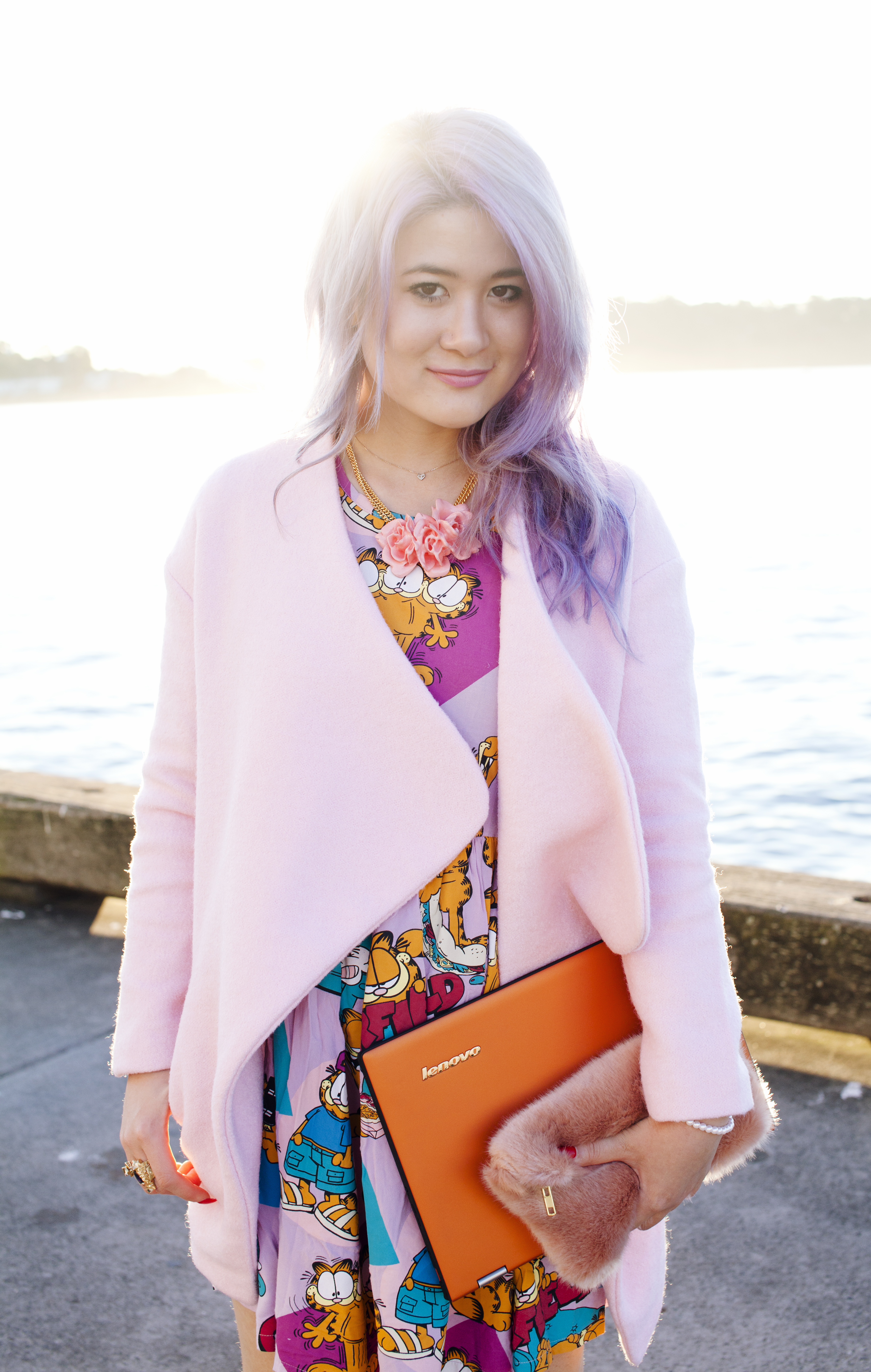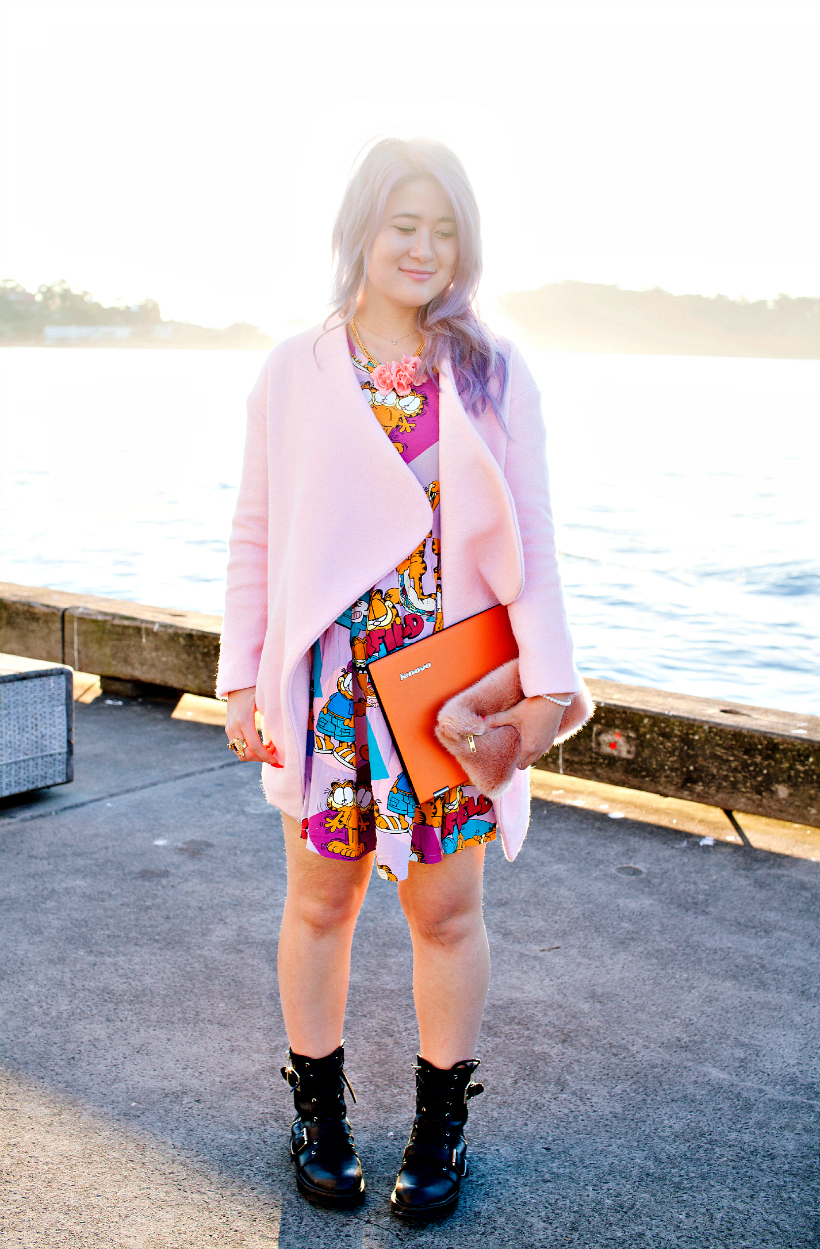 Wearing: Hello Parry coat, Lazyoaf x Garfield dress, Ebony Fleur necklace, Alice & Leon ring, vintage ring, pearl bracelet, Aldo boots, Lenovo Yoga 2 Pro, Georgia Mae clutch
I posted about the adorable Lazy Oaf collection and their recent collaboration with Garfield and couldn't resist purchasing this adorable LazyoafxGarfield dress.  At first I thought that the fabric and cut was a bit ordinary – till you put the dress on.  Usually during winter I hardly ever wear weather appropriate clothing – up until today, I only own 1 coat and a couple scarves. These boots by Aldo were much needed winter staples as my old boots decided to break after 2 years of wearing them to death and I got them at 50% the rrp price which was a lovely surprise!  Not only is this pretty pastel pink coat by Hello Parry comfortable, it also is quite affordable and I know I'll be living in it during winter!  This is also my exciting PART 2 collaboration (you can read PART 1 here) with the cool cats at Lenovo, including my next set of Q&A – I hope you enjoy!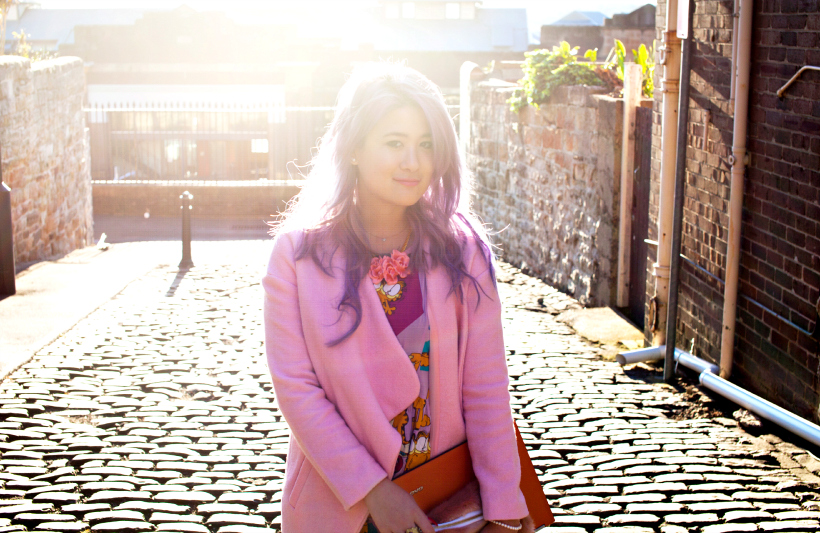 What is your favourite piece of clothing that you own?
This is a hard question to answer – I'm currently loving my Zara pink biker jacket because it's the perfect mixture of tough and cute! 
How did you get inspired to start your blog, Little Black Book?
Little Black Book started as a online diary where I could share my day to day life. I was at a point in my life where I wanted to hone in my writing skills and Little Black Book was the perfect outlet for that.  The colourful outfits and unicorns just followed after that!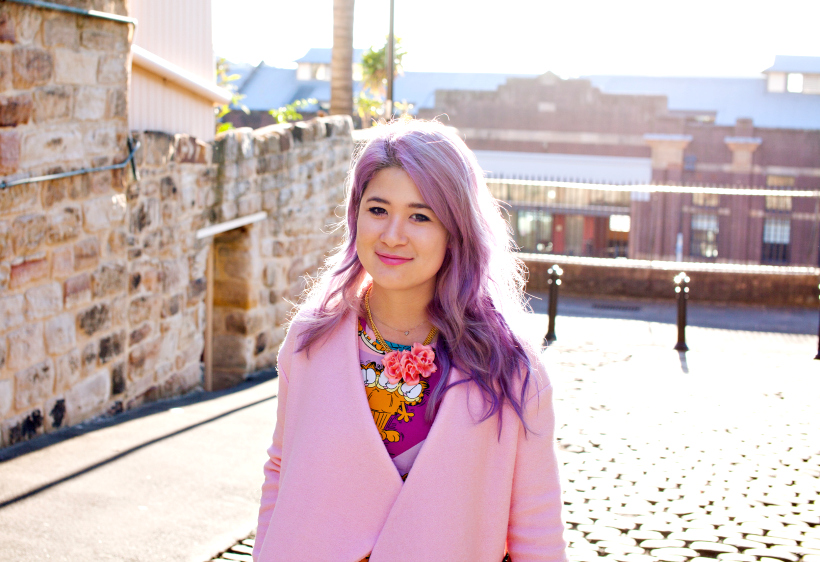 How would you describe your personal style?
Quirky, colourful and feminine
What are your fashion picks for Winter?
Definitely pastel coats and jackets will be big in Winter – they'll give you that extra pop of colour and make you stand out during the usual sea of monochrome coats and scarves.
Do you style your own editorials for your blog?
Everything I wear and feature on my blog has been approved by myself or is something I personally endorse or love.  I love styling my own editorials and I work with my photographer Aimee on where to shoot and what to feature.

Your blog is full of colour. Where do you get your fashion inspiration?
Fellow instagrammers and tumblr is the best source of inspiration for myself. Right now I'm still looking to Tokyo and Japanese fashion for inspiration and am always on the look out for talented new designers to support.
Where do you see yourself in five years?
Hopefully shooting some nation wide (or worldwide) campaigns with some of my favourite labels like Chloe, Chanel or Miu Miu and getting big in Japan.  So NHK and Nippon Vogue if you're reading this – watch out because I'm coming for you!

What advice would you give someone who's been wanting pastel hair but just hasn't taken the plunge to do it yet?  
Just do it! Life is too short to stress about what society would think of you. If it makes you happy – then do it! It has been one of the best decisions I've made, I haven't looked back since!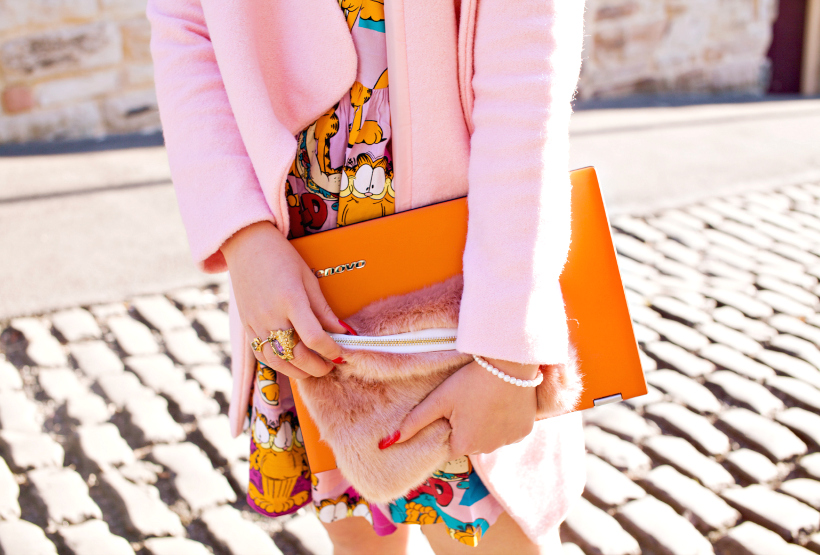 What have you found cool about the Yoga 2 Pro besides the chic orange colour?
I actually can't get over the sheer sleekness and how light the Lenovo Yoga 2 Pro is. It definitely is lighter than the Macbook Air and the fact that it turns from a laptop into a tablet is just so handy! 
Finally any advice for someone who wants to start blogging but wouldn't know where to start?
Blog because you love doing it, don't start a blog for fame or fortune. You need to also realise that maintaining a blog is hard work and requires constant motivation and attention. Try to find your own niche and stand out and realise what your point of difference is.