Editors note: One of my favourite artists right now, her sound is so unique, so haunting yet like a siren song just draws you in. I discovered Chelsea Wolfe actually through Twitter. I would like to thank Chelsea for taking time out of her busy schedule for this lovely interview. I hope you guys enjoy reading it as much as I did interviewing the talented Ms Wolfe! And go buy her new album Ἀποκάλυψις  which can be purchased from PenduNYC xx

Wolfe's sound is raw, dirging doom-folk with hints of black metal, deep blues and minimal synthesizer music, but it's as prone to triumph as it is despair. Her voice is both haunting and seemingly haunted, though whether by angels or demons  is unclear. And her lyrics reflect an obsession not only with life's murkier moments, but the unlikely truths and beauty they so often reveal.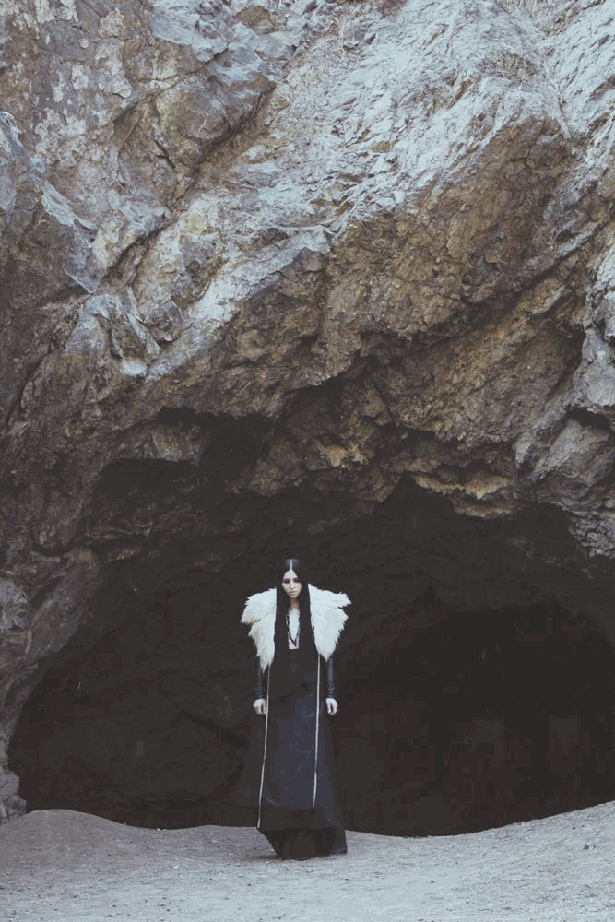 Little Black Book: Hi Chelsea, hope you are well. You've just wrapped up your CMJ tour around NYC, I'm quite jealous that I missed out! I was actually in NYC a few weeks ago! How was it performing in different locations around in Brooklyn?
I really like New York. I finally get it. And we had a lot of fun at CMJ, playing in Manhattan and Brooklyn in the same night, two different shows.
What was your childhood like growing up in a small town like Sacramento, CA compared to Los Angeles where you're based now? 
I grew up on the outskirts of Sacramento, in the older part of town, across the street from the train tracks and near a big library and old park. There was a bear they kept in a small cage in the park and this kid campaigned and raised enough money to get him transferred to a sanctuary. He was my hero back then. I spent a lot of time in the library. It had domed ceilings and the building went in a circle. Somehow I still always got lost. I liked choosing books by their title. Northern California has a different feel of course, but what all of California has to offer is beauty in nature. The big trees and the mountains and the coastline.
You've managed to capture so many people with your dark yet powerfully bewitching sound. How would you describe your style? Who were your main inspirations and how would you describe your own aesthetic? 
I'm inspired by visuals, films, words.. The way a filmmaker like Ingmar Bergman or Lars Von Trier can show you a landscape, it can rip your heart out.. I wanted to make something like that but with sounds.
You've just released  your second album Ἀποκάλυψις, what were your main inspirations for this album? How would you compare it to say your debut album The Grime & the Glow. 
End times theories, the ends of things, biblical language.. It has a larger feel and vision and heavier sound than The Grime and the Glow.
ON THE NEW ALBUM: "The title of the album, Apokalypsis, stands for revelations, the apocalypse, and lifting of the veil. That was kind of what the album represents for me. The word "epiphany" kind of stands out for me when I think about revelations, like a realization; that moment of realizing something that really makes sense. For me, that's what the album cover represents—the whited-out eyes and the expression. It represents a sense of epiphany or revelations. Sort of like the moment right before the meteor hit." – Chelsea Wolfe


Alot of your track titles have references to demons, darkness or suggest interest in the occult. What inspires you? Do you have interest in the occult? 
It's more an interest in the spirit realm and the visual ideas and representation of traditional religion.. The reality and possibility of daily interaction with the spirit world, whether dark or light.You have a huge fanbase globally. Do you ever wake up and pinch yourself? 
I could handle more! I think my fanbase has a lot of growing to do, and I want to share my music with more and more people. I am happy to be on a good path though..
 
I like how you manage your own twitter account and engage directly with your fans. Do you think this has helped your success?
No, because it's only something I started doing recently. I have this sort of distance I keep.. like, it takes me a long time to let people get close to me.. But something changed, I realized how much my fans mean to me and the music and I wanted to connect with them in a new way.

You've been on tour off and on for a few months now, performing from Norway to France to Canada and of course California and New York City. What has been your most memorable performance experience? Do you prefer performing on home turf or abroad (which crowd is crazier?)
Definitely prefer playing somewhere new. I love Scandinavia.. long drives through amazing landscapes and really kind, beautiful people. It rained a lot when we were there. Again, I love playing in New York.. Sometimes it's not even about which country or state I'm in, but just the actual venue and vibe of the crowd.. If everyone gives out good energy, and the sound is good and the lighting is intriguing, it all comes together in a magical way, and those are the best shows.


What was the last book you read?
I'm currently reading The Rainbow by D.H. Lawrence.. I love the way he describes nature so primal, simple, intense and beautiful. Sometimes I don't even pay that much attention to what's going on in his books, I just wait for moments of description that really inspire me.
I've seen your recent editorial with Interview Magazine  – it was eerie, powerful yet seductive. Where was it shot? And did you have a favourite look from the shoot?
Thank you.. that was a lot of fun, we had a great team including Jenni Hensler as stylist, Anna Dobos photographer, and hair and makeup by Dana Delaney and Gabe Jenkins, respectively. We shot at the Griffith Park caves in LA, which is an incredible spot. I was changing outfits in the cave, scaring off little children. I really loved the Iris van Herpen pieces.. structured like shells.. I also loved the leather arm-pieces by Logan Neitzel and the cuff-spike by Mordekai. I love Mordekai, I wear it as often as possible! Amazing metal pieces. And the black gloves.. A hint of medical aesthetic. Jenni does a great job at understanding my influences in fashion and pulling amazing shit together!
Do you have a separate style when you are on stage to when you are off or is what we see on stage the real Chelsea Wolfe?
I'm often borrowing clothes from a designer or stylist to wear onstage, but if I owned some of that stuff I would definitely wear it daily! I typically dress in a way in which I can move.. I love fabrics with stretch and draped layers, and jewelry that doubles as a weapon. I'm the same onstage though, since I'm playing guitar and moving around, I refuse to wear anything that limits that. Sometimes I'll torture myself though and wear something difficult to play in, because I want the visual. I never dress extreme simply to dress extreme though, I only dress how I'm feeling or in a way that represents what I'm inspired by currently.
Your fashion has been described between a mix of goth and folk. How would you describe your style? Do you have any favourite designers who you adore?
My favorites are Maison Martin Margiela, Ann Demeulemeester, I loved Rick Owens SS12 – I would wear ALL of that.. Margiela is my all-time favorite.. so alien and human at the same time, almost ugly but so perfect. I'd kill for a pair of those black Tabi boots! I also love Damir Doma, AF Vandevorst, and again Mordekai, and I love a lot of stuff from All Saints. I'm into a really simple monochrome outfit with amazing shoes. I want clear plastic shoes like the ones Cheap Monday put out for I think SS11, and I've seen some around lately too. I love platforms and height, even though I'm already really tall.  I think my "style" is something in-between nordic, white trash, and softer, maybe elegant, and nature-inspired.
I heard that you are already working on a third album (you work hard girl). Can you give any more details on its progress? 
Just taking time right now to write songs for the next album.. I have some already written and we're working with a really rad producer to help bring the songs to a new level. That's something different for me. I had originally had a title chosen for the third album, but decided to scratch it and keep it untitled for now because the songs started to outgrow the title.
Do you have plans on coming out to Australia any time soon? We would love to have you here, I'm a huge fan myself. 
I would love to.. I'm sure it's in the cards, we must be patient! 
Lastly, what were the three most memorable things you did this week.  
CMJ.. the Life or Death PR showcase was the most fun show.. so many good bands and so much family. I also loved everything Brooklyn Vegan had going on at Public Assembly. Third.. flew home from New York to LA and slept for like two days in my big, old, dusty house.
Image credits: Interview Magazine editorial Jenni Hensler as stylist and hair and makeup by Dana Delaney and Gabe Jenkins
xx