For avid readers of my blog, many of you over the years would have noticed one of my staple and most beloved handbag is my Chloé python Paraty bag which I've had for a few years now.  It's definitely been one of my smartest investments in fashion and when calculating the cost-per-wear aspect of the bag, it's been quite reasonable and worth the cost of the bag.  Fast forward to present day and it's suddenly met it's used by date.  Finding out that one of the long shoulder straps on the bag snapping is quite devastating.  Being a avid social media expert and knowing that maintaining customer service is one of the highest priority – having been on the receiving end of complaints before as part of my previous PR job, I contacted Chloé via Twitter to receive a lovely message that requested I get in touch via email asap to get the issue resolved.
@lil_blackbook I am really sorry to hear that, could you please provide your e-mail address by private message ? 
Thank you very much— Chloé • クロエ (@chloefashion) March 19, 2014
Having had communications with Chloé via Twitter and email, my Chloé python Paraty was fixed in their Asia manufacturing office in Hong Kong and was sent back to me. The repaired bag was great until it's second outing where the same shoulder strap broke where much to my dismay it appeared that only glue and not proper stitching was used to secure the strap (see below):
pretty upset that my @chloefashion Paraty broke again after Chloe fixed it with glue. This is not acceptable pic.twitter.com/VztoO08bQh— Emi Unicorn エミリー (@emiunicornn) June 28, 2014
 A month went by without word from my email contact from Chloé Customer Service nor from their Twitter account. This was when I was losing all hope, thinking there was no real end in sight and I should just give up on my Paraty. Then something amazing arrived in my inbox – Chloé emailed me saying that they'd be happy to replace my broken bag with a brand new one. To be honest I wasn't expecting them to replace the bag – I was quite happy with them fixing it as to retain it's warranty, so to have them replace my 4 year old python Paraty was exceptional! I received my brand new Paraty 2 days later via DHL to my amazement and here she is: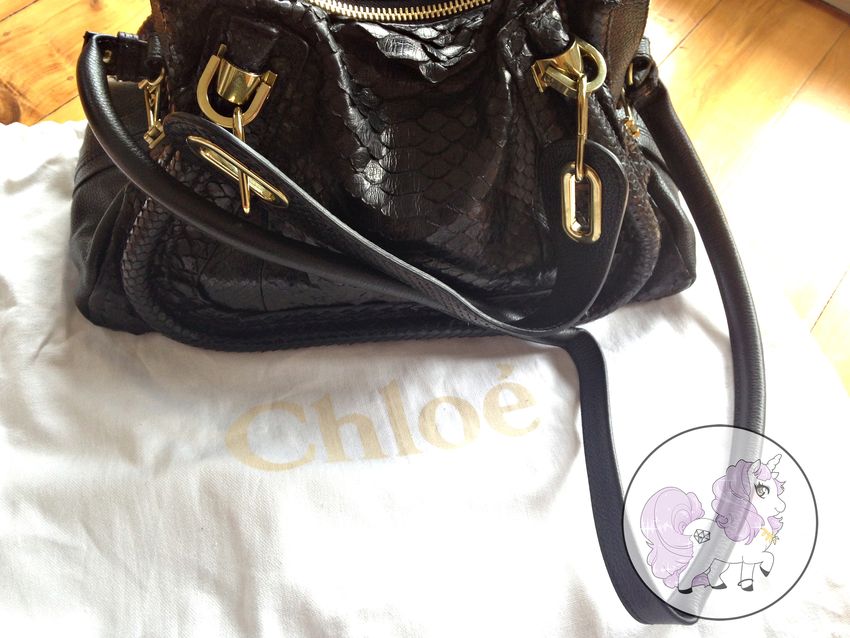 Final word: The amount of money you invest in reputable designer labels it's kind of a given that you'd expect excellent customer service and for them to uphold their brands' core values and this is exactly what I received when dealing with Chloé. While I never expected Chloé to replace my 4 year old python Paraty, this is exactly what they did – no questions asked and in such a apologetic and professional manner. This makes me respect and value Chloé so much more than I did before, it's fantastic to see their staff really care for the brand's core values and reputation.