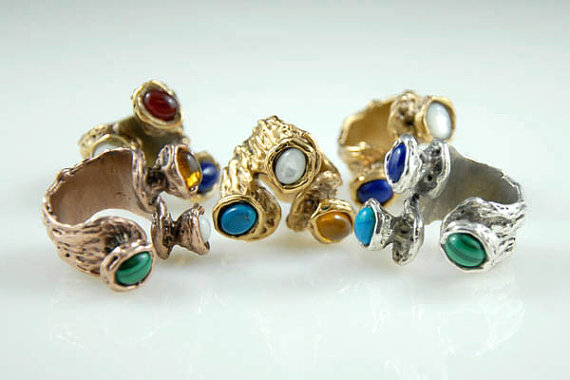 Many of you might remember me introducing one of my favourite up and coming Australian jewellery labels Bahagia Jewellery in my post during my stay in NYC last year (if you don't here's the link) – incredible "statement rings, mixed with stylish understated pieces that complement each other creating an effortless look. Two tone metals, and intricate details and textures that exude a natural elegance."
Well hold onto your hats – Bahagia Jewellery and Little Black Book are teaming up to give away one of the most coveted rings from her signature Reef collection – Mother of Pearl Sea Cluster ring in 24 carat rose gold finish. This baby is so chic, so stylish and so wearable! Camila Felizardo, the amazing woman behind Bahagia hand crafts and customises each ring which the stone and finish of your choice – each ring is unique!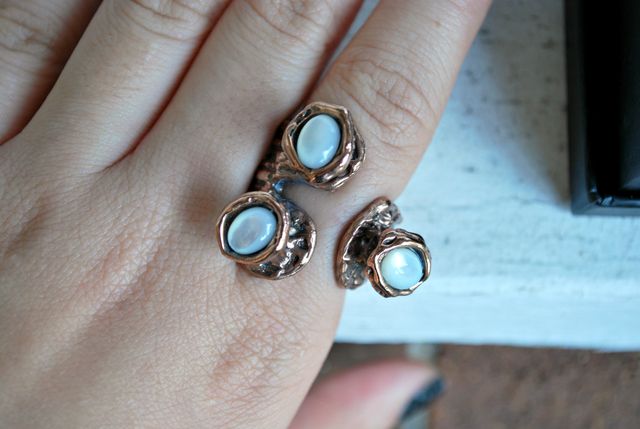 The ring pictured above & below is my own ring which I particularly love my mother of pearl sea cluster ring and cannot wait to show it off in New York City and I can't wait to give one away to one of my loyal readers! It's such a statement piece yet manages to do it subtly (and well!). Little Black Book absolutely adores and supports Bahagia Jewellery ♥ ♥ ♥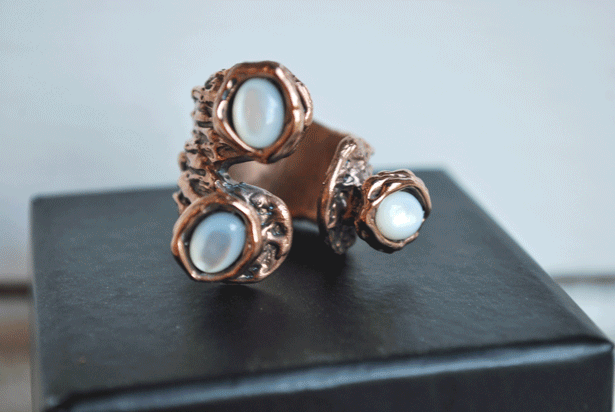 WIN Bahagia Mother of Pearl sea cluster ring in 24 carat rose gold plated finish (as above)
How to enter:
The competition is a WORLDWIDE GIVEAWAY – meaning everyone can enter, no matter where you live!

1. Become a fan of Little Black Book on Facebook, Bloglovin', Twitter, Google Friends Connect (bottom left of website)
2. Become a fan of Bahagia Jewellery on Facebook, Twitter
 Leave a comment below with your Facebook, Twitter, Tumblr details as well as your email address (so I can contact you if you won!)
We will be checking to see if you have completed the above requirements to qualify entry into this competition. The more platforms you follow Little Black Book and Bahagia Jewellery on – the more chances you have to win!
Giveaway closes 30/3/2012 (30th March 2012)
Terms & Conditions:
1. 'Sea cluster ring giveaway' is an worldwide giveaway, meaning it is open to everyone no matter where you live.
2. Winner will be chosen on the above criteria and will be chosen at random. There will only be one winner.
3. Tweeting, retweeting, linking and sharing on Facebook or Tumblr etc – including to importantly tag the Official Little Black Book facebook page or Bahagia Jewellery facebook page will also count as extra entries.
4. Following on twitter, facebook, tumblr and bloglovin each will count as an entry. 4 follows = 4 entries. The more you follow the better chance you'll have of winning!
5. You can only enter once. Multiple entries will be deleted.
6. Winner will be contacted via email (twitter & facebook if applicable).
7. Prize pack valued at US$180.00
Using Random.org Bahagia Jewellery and Little Black Book have found the winner. Congratulations Kerry Santillo on winning the Bahagia sea cluster ring! I hope you enjoy it and feel free to post up a picture of you wearing the lovely creation on Facebook!