Many of you might remember my first post on Emma Mulholland earlier in the year during RAFW 2011 in the Innovators runway show  where I exclaimed she was my favourite emerging designer from the show due to the quirkiness of her designs, as well as how aesthetically appealing and wearable everything is. And it seems like I'm not only one to find Mulholland's Queen Aurelia debut graduate collection stunning and can see her talent! My friends at The Grand Social have already picked up the collection as well as Melbourne's Alice Euphemia. The lookbook featuring the stunning Kelsey Martinovich Australia's Next Top Model runner up in 2010 and even has creepers (which I need to get a pair, this has been on my mind for a while. It's hard to find a reasonable priced pair of creepers!).
There are so many pieces I love from Queen Aurelia, though my absolutely favourite piece is her patchwork digi print jacket (above) a mix of leather and digital print what else would you want!
Mixing impeccable tailoring with bright prints referencing surf and sand, Queen Aurelia takes you under the sea without the literallyness which Romance Was Born did in 2009. I dream of being able to pull off and be comfortable wearing head to toe colour ala Emma Mulholland, but alas I will probably settle for one piece to start with. I loved this when I saw your show in May at Fashion Week and I love it even more seeing babe Kelsey model it in the lookbook. Congratulations Emma, you deserve all the success you receive! Insane collection that literally left me gasping for air!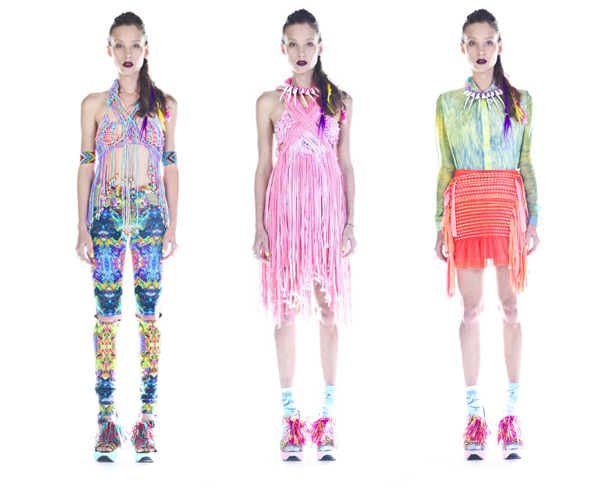 "It was called 'Cruel Summer', which is a song by Bananarama. It was everything I've grown up around. My dad surfs a lot on the coast, and I watch a lot of surfing movies, so I used a lot of the colours you see on the beach. When you're at TAFE you design according to other people's briefs, so I've wanted to get this out of my system for a while. I didn't mean for it to feel so 'under the sea', but I do get a lot of inspiration from animals and nature. Next season I think I want to create a safari feel." – Emma Mulholland


Photos edited by me.
xx