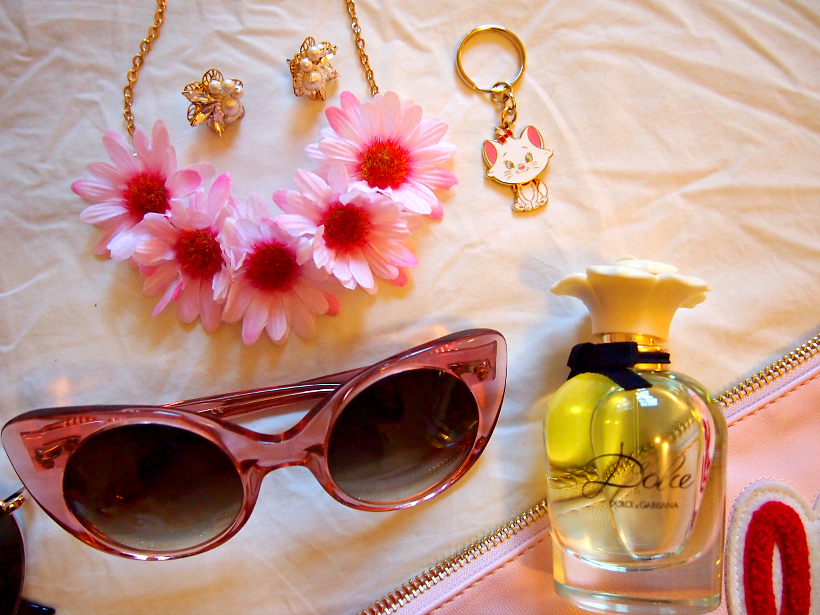 1. Florabotanica by Balenciaga fragrance
2. Flower necklace from WEGO 
3. Pearl earrings
4. Marie Aristocats keychain from Disneyland Tokyo
5. Thierry Mugler pink sunglasses
6. Dolce by Dolce & Gabbana fragrance
7. Lolita Girl clutch from WEGO
8. Pearl choker
9. Johnson's lasting moisture hand cream
10. Pink seashell case from WEGO
11. Lolita heart sunglasses
Just some of the delightful things I purchased during my recent trip to Japan.  One thing I set my sights on was getting some cute Lolita heart shaped sunglasses so I was quite thrilled to have found these in a little shop in Harajuku.  My slight obsession with pearl necklaces and earrings was tamed after I found this adorably pretty pearl choker necklace also in a boutique in Harajuku.  One of my favourite shops I'll miss the most would probably be WEGO – a mix between super girlie, kitsche and everything kawaii this Japanese chainstore knows whats in trend at an insanely afforable price point (anyone that's been to Japan and experienced WEGO knows what I'm talking about).  Usually I only have a couple fragrances which I alternate from – I couldn't pass up buying Florabotanica by Balenciaga which I've been eyeing off since it's release – but then when I came face to face to the new Dolce by Dolce & Gabbana it was so sweet, floral and heavenly I couldn't turn away from buying it either!
I'm not even joking when I say even plain old Johnson & Johnson hand cream in Japan is so much better than what we have back in Australia – this one is peach scented, it smells so delicious and makes your hands feel so soft.  I honestly can't wait to travel back to Japan – to all my fans in Japan:  私はあなたを愛し、私はすぐに日本に戻って旅行するのを待つことができない!