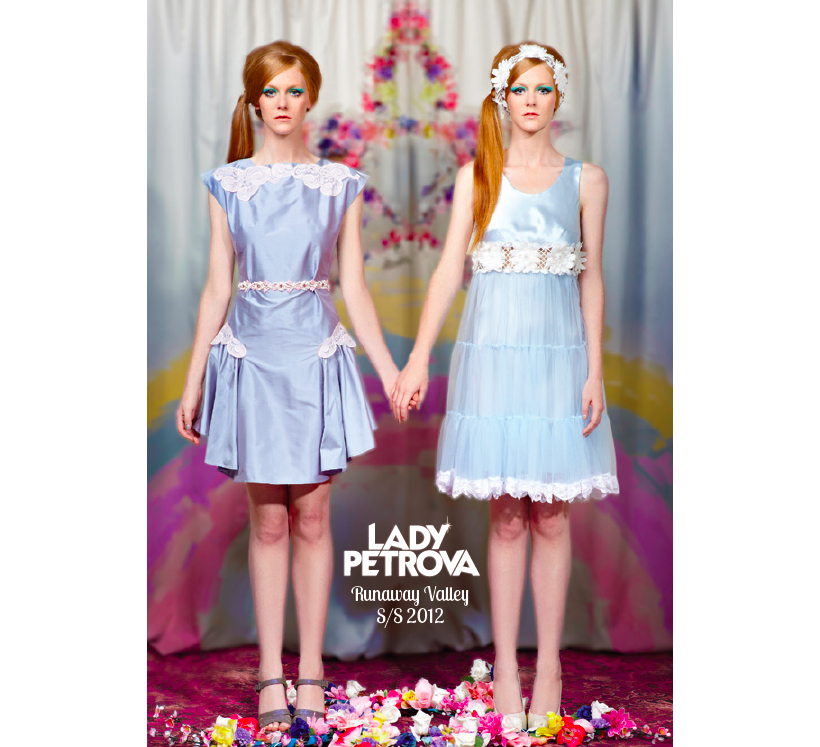 When the lovely Lady Petrova personally sent me her latest lookbook for her namesake label, titled Runaway Valley I knew that I wouldn't be disappointed ( the last Lady Petrova collection titled Snow Queen was a wintery magical wonderland). For those of you unaware of the label Lady Petrova, it is a label which I stumbled upon while watching Australia's Project Runway Season 1 (where Petrova Hammond starred in and she was my favourite!). Lady Petrova is a Melbourne based label who's aesthetic fits mine perfectly: whimsical, feminine and magical – Runaway Valley SS 12 continues this signature style by incorporating delicate fabrics such as silks, taffeta and lace paired with delicate detailing like tulle and sequins to create a cohesive, ultra sweet and feminine, pastel and sorbet filled spring summer collection.
I have a couple pieces which are my favourites, so I can't wait for this collection to be released and launched online as well. I particularly love the beautiful mermaid like lilac (almost) floor length dress, the caramel and lilac sequinned shift dress as well as the charming flower detailing on her nude party dress. This collection in its entirety manages to transport me into a magical world of candy, unicorns and pastel everything. I need this to become a reality! So much love x
ps- apologies for the slight lack of blog posts, I've got heaps coming up including a bunch of outfit posts and features. If you're getting Little Black Book withdrawals don't forget to follow me on Twitter and Instagram for a more instantaneous hit.