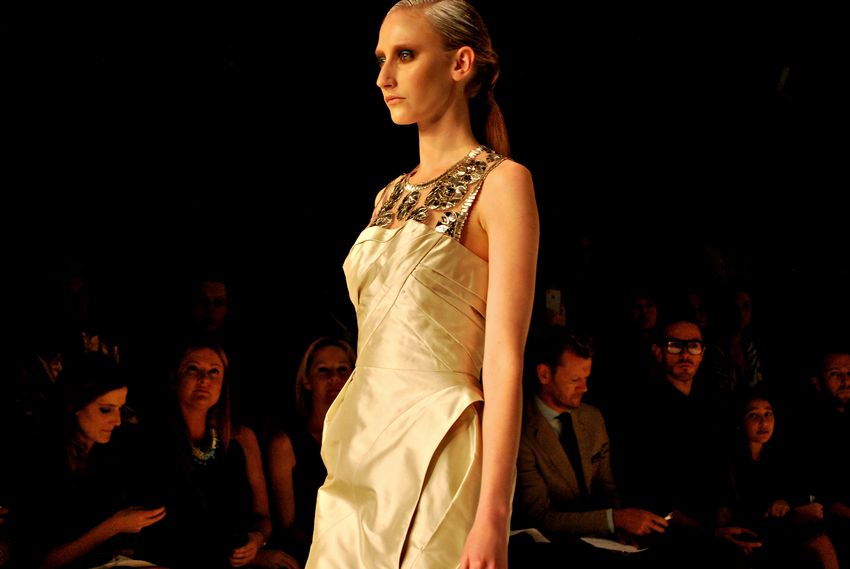 By far my favourite show from Day 1 and quite possibly the whole week – I expected no less from the incredibly talented Aurelio Costarella, known for his exquisite haute couture gowns and dresses.  Aurelio took us on a journey all the way to couture and never looked back – every dress is immaculately constructed; what wowed me was the insane attention to detailing that is in every piece from the collection – have a look at some of my detailed shots below and you'll see what I mean.  From ostrich feathers to incredibly elaborate embroidery and lace detailing – Aurelio Costarella truly is one of Australia's front runners for haute couture.
The show itself was stunning, beautifully choreographed – the show began with two all black dresses while soon after the collection dramatically changed into a brighter, warmer and more delicious colour palette: mermaid turquoise, deep mochas and canary yellows.  And for me to have been able to sit front row at his show, to have the honour is unbelievable and I appreciate every minute of my time sitting there, being able to enjoy, admire and capture his collection in one of the best vantage points. I appreciate and thank everyone (thanks HP Australia) for the opportunity!  I said this when I was watching the show and I'll say it again – I would get married in Aurelio Costarella!
So go, enjoy the collection. Drool and smile in awe and amazement at the beautiful designs below!