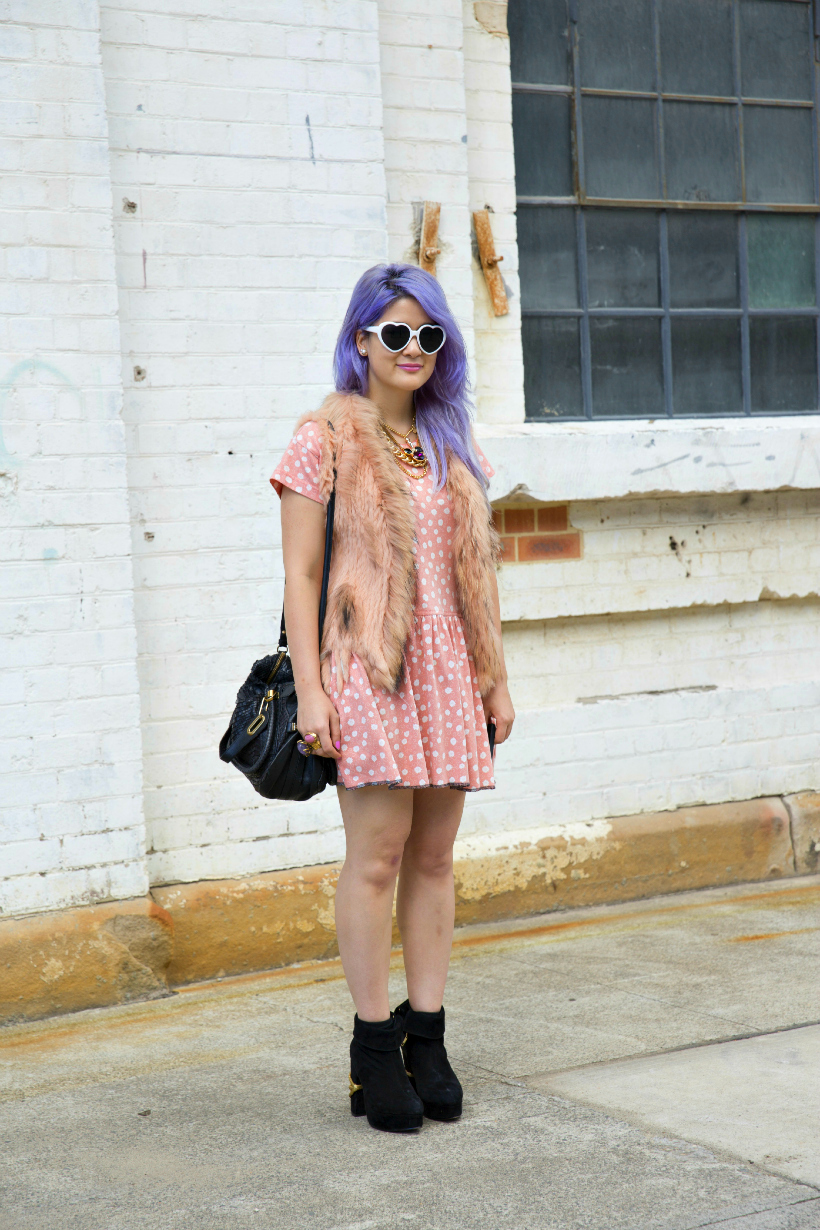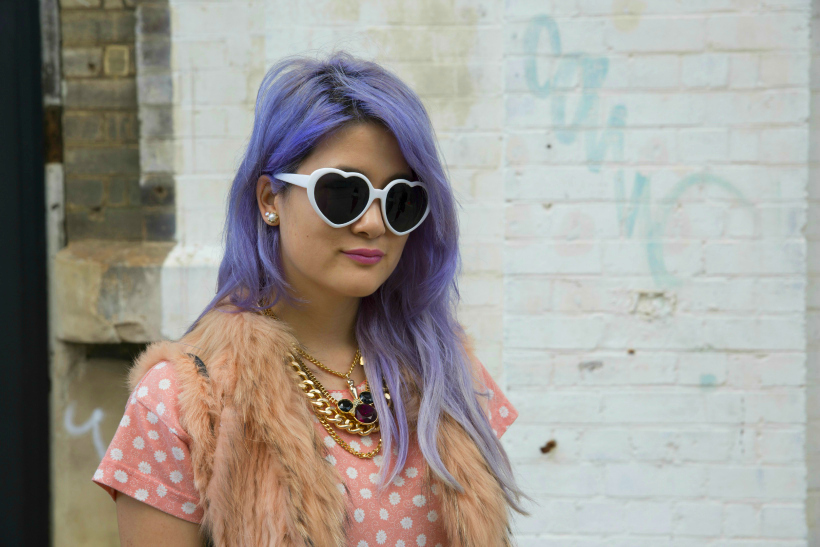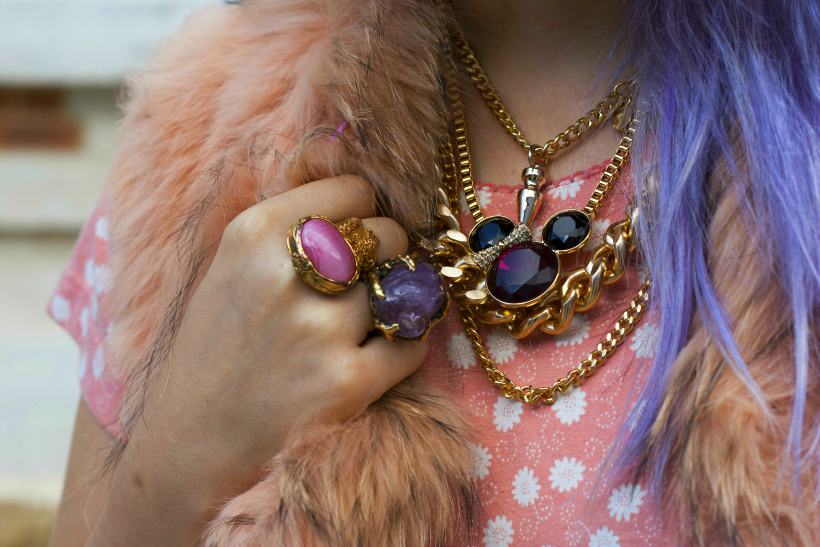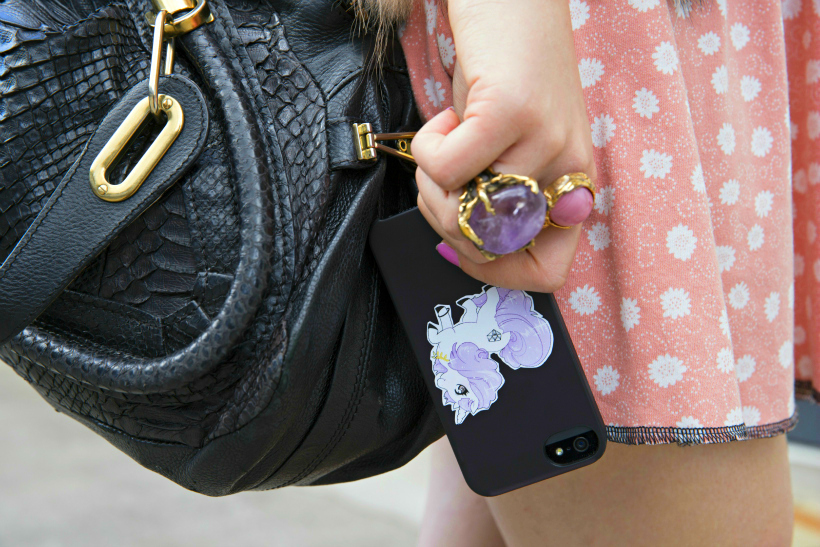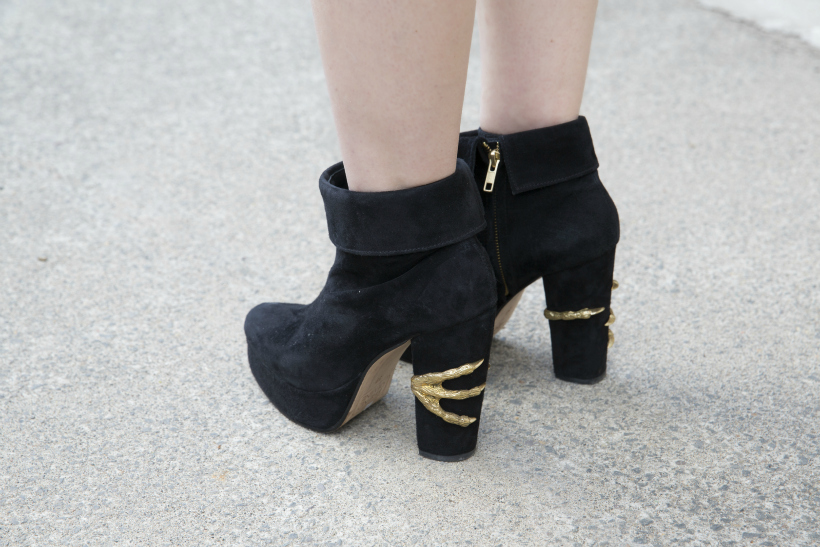 Wearing: vintage dress, Jennifer Kate vest (similar), Chloe bag, Friend of Mine claw boots, assorted necklaces (Veronica B spike drop necklace, vintage thick chain, Disney Couture Mickey necklace [similar]), Bahagia reef ring, YSL Arty ring, vintage sunglasses (similar here)

Attending MBFWA this year marks my 5th year at Australian Fashion Week – making me feel like a veteran but in a way also making me feel refreshed and revitalised in the industry because in so many ways, my blog has metamorphosised and developed into its true self only the last couple of years.  This week was so much more intense and hectic and I can't wait to show you my coverage, I'll be churning them out over the next couple of days so be sure to stay tuned: but first I need some R&R to recover and catch my breath from the week that was!
A colourful fun look for MBFWA Day 5 – I decided my colour palette should consist of purple and pink. The weather was a bit warm yet cooler in the evening so this cute woven fur vest by Jennifer Kate  paired over one of my favourite vintage finds – how rad is this dress? Casual yet chic, you can dress it up like I have with accessories or wear as it is for a more casual look. 
I have always had a love for Disney Couture jewellery so when I saw this cute DC Mickey necklace -it's playful yet chic, fun and fabulous and here I've paired it with this sweet Veronica B necklace I picked up when in Auckland last year for NZFW along with one of my thick chain necklaces.  Oh and did I mention these two rings are perhaps my favourite two in my jewellery collection?  Stay tuned for the rest of my MBFWA show coverage – but for now check out my Instagram for sneaky snaps from the week.
Photos by Foureyes